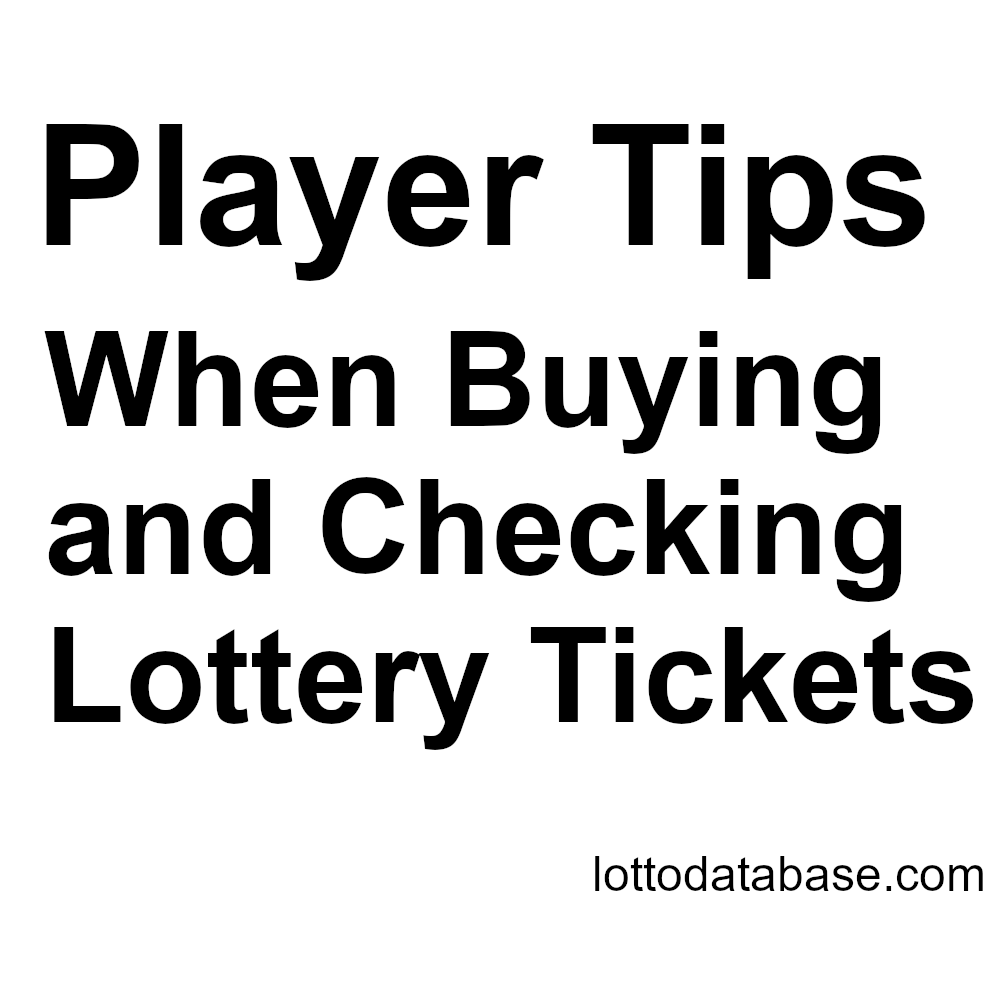 Here are some tips every player of lotteries should follow. Most of us do these everytime, but some of us only do it when we have a winning ticket.
Sign It
Print or legibly sign your name on the ticket as soon as possible after your purchase.
Check It
Always check your ticket against the winning numbers after the draw.
Draw results are available at the following locations:
Television (Live): Many draws are televised live. Just tuned in and watch the draw live.
Television (News): Many News outlets have a spot during their news segments where they televise lottery numbers. After a big draw has been won, the media outlets finds out. The lotteries usually disclose which community or city the winning ticket was sold. There are then local news features within that city or community.
Website (News): Many News outlets have their own websites. After a big draw has been won, the News outlets provide information on their websites of the win.
Phone In: Many communities have a dial-in service which plays a recording of recent lottery results.
YouTube: Many lotteries publish their results on their YouTube Channel (usually the same live feed that was available on television).
Website: The website for the lottery will have the results of the draws. Many have a breakdown of the number of winners for each subprize category.
Results at Retailer: Many retailers have draw results posted daily. They also have a breakdown of the prizes. Many also have a sign showing what the jackpot is for the next draw. If the jackpot was won, you need to double check your tickets.
Ticket Checker at Retailer: Many retailers have a ticket checker. The ticket checker is self serve and allows the player to scan their ticket to confirm its status (winning or non-winning).
Ticket Validation with Retailer: You can hand the ticket to the retailer to check its status. If it is a winning ticket, the Customer Display Unit (if available) will confirm it is winner. This confirmation is validated with a sound (where available). A validation slip is printed when processed through the ticket terminal.
Newspaper: Many communities publish the lottery results in their newspapers.
Billboards: We probably have all seen billboard advertising lotteries. Although they may not publish results, they usually advertise how big the jackpot has grown. If the jackpot goes down after a lottery draw, you know that someone won and it would be a good idea to check your ticket.
eMail: Some lotteries offer a service where you can receive winning results by email
Lottery App: Although an individual lottery may not have an App, the region (state or province) may offer an app for the player to verify their tickets. Similar to a ticket checker at a retailer you can use your lottery app to scan the barcode with the camera on your phone. It then checks against the sold tickets in your region and lets you know if you have a winning or non-winning ticket.
RSS Feed: Some websites (including ours) has a RSS Feed which can be use to view results.
It is a good idea the verify your ticket using one or more of the above methods, especially if your ticket is a larger prize winner.
Get your Validation Slip
When you have your ticket validated through the ticket terminal, it will print out a validation slip. This validation slip indicates the status of the ticket (winner or non-winner) plus any prize amount won. You can also compare the validation slip with your ticket to confirm everything matches
Get your Ticket Back
If the prize is payable by the ticket retailer, they will tear the ticket in half and give it back to you with your prize. All other tickets are returned to the player in one piece. These could be non-winners, or a prize larger than the retailer can pay out.
Retailer Region Limits
Both the US and Canada have different regions, usually delimited by the state or province. Even if you have a winning ticket, it can only be claimed in the region which you bought the ticket. Each region has their own computer system to record tickets purchased in their region. So it is impossible to verify your ticket at a terminal in another region. In this case, you can either visit the region again where the ticket was purchased or mail the ticket to the region to claim your prize.
---